As some of you know, I'm originally from Alabama, though I live in the Pacific Northwest now. My native state has famously hot and muggy summers, and I remember one day in particular when I was home from college for the summer and was driving around running errands. The DJ on one of the radio stations announced that the AC was down in the studio, and he had to do
something
to cool off...so he broke out the Christmas music. And for the rest of that 95-degree Deep South summer day, he played carol after carol. The thing is, it
did
seem to help. My car was a tiny, aging 1980 Dodge Colt whose AC only sorta worked, and I swear I felt cooler for all that joy to the world and those herald angels singing.
Seattle summers aren't anywhere near as brutal as Alabama's, but most of us don't own air conditioners. Mr. Fraser and I are lucky enough to have a window unit in the master bedroom, but the rest of the house starts getting uncomfortable once it gets much above 80. As I type this it's 82 outside and I'm sweating in my writing office despite open windows and a fan. So maybe it's time to think cool winter holiday thoughts again.
And Entangled Publishing is here to help. Today and tomorrow they're hosting a Christmas in July event
on Facebook
. Do stop by if you need a reminder that winter
is
coming. And if you'd like to pick up a quick Christmas read to enjoy at the beach or to save on your e-reader for the holidays, my short novella
Christmas Past
is available year-round wherever ebooks are sold!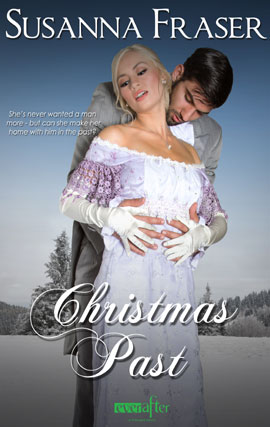 Time-traveling PhD student Sydney Dahlquist's first mission sounded simple enough—spend two weeks in December 1810 collecting blood samples from the sick and wounded of Wellington's army, then go home to modern-day Seattle and Christmas with her family. But when her time machine breaks, stranding her in the past, she must decide whether to sacrifice herself to protect the timeline or to build a new life—and embrace a new love—two centuries before her time.
Rifle captain Miles Griffin has been fascinated by the tall, beautiful "Mrs. Sydney" from the day he met her caring for wounded soldiers. When he stumbles upon her time travel secret on Christmas Eve, he vows to do whatever it takes to seduce her into making her home in his present—by his side.
And later this week I'll have more Christmas-themed news to share!