Today I'd like to welcome my fellow Carina author Angela Highland, whose epic fantasy novel Valor of the Healer was released in April.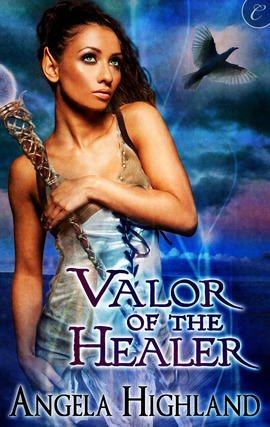 Greetings, Susanna's readers! You all know Susanna as an author of historical romance, and I'm right there with you on that; I've quite enjoyed her books. Particularly after discovering that she was a fellow Browncoat. Which meant I got to spend all of
The Sergeant's Lady
imagining her hero looking like Nathan Fillion. This did not suck.
And that leads me into what I wanted to post about, which is to say, what romance readers and SF/F readers can have in common, and what books might appeal to both!
Science fiction and fantasy novels got my reading attention very early on in my life. But on the other hand, so did the author who wrote under the names of Barbara Michaels and Elizabeth Peters. Michaels/Peters gave me a very strong introduction to Gothic-style romance via the one pen name, and mysteries with romantic elements via the other. It didn't take long at all for novels that incorporated both fantastic and romantic elements to shoot to the top of my favorites list.
Anne McCaffrey was probably the first SF author to pull this off for me. F'lar and Lessa in the Pern series were a classic romance for me early on in my reading, as were Killashandra Ree and Lars Dahl in the Crystal Singer novels. On the fantasy side of things, one name similarly leaps out: Mercedes Lackey. Her Valdemar series gave me not only Talia and Dirk as a romantic couple, but one of the earliest male couples to show up in modern fantasy: Vanyel and Tylendel.
As urban fantasy started getting its feet under it as a genre, Tanya Huff's Victory Nelson books staked their claim hard for my affections as well, with the love triangle of Vicki, her former police partner Mike, and the vampire Henry. (This remains one of my favorite romantic scenarios as well, in no small part because it is in fact eventually resolved, and not in the way I would have expected reading it at the time!)
For more modern releases, I'll give some love to Patricia Briggs and Doranna Durgin--both of whom had excellent fantasy novels before they jumped over to writing urban fantasy and paranormal romance, respectively. I'll give particular shoutouts to Briggs'
When Demons Walk
and Durgin's
A Feral Darkness
. I specifically highly recommend
A Feral Darkness
; not only does it have a lovely little romance in it, it's got a delightful plot, a positively adorable Corgi, and the distinction of being a contemporary fantasy not actually set in an urban setting.
Julie E. Czerneda is hands down my favorite SF author, not only for her ability to create vivid and memorable alien species from her own real-life biology expertise, but also because she tells compelling love stories as well. Her debut novel
A Thousand Words for Stranger
is one I return to time and again.
Now, you'll notice that these are all female authors, so let me give shoutouts to some male authors as well. J.R.R. Tolkien might not seem an obvious candidate for fantasy accessible to romance readers, but the tale of Beren and Luthien that appears in
The Silmarillion
remains my favorite love story in all of Tolkien's works ever. Close behind that comes Eowyn and Faramir in
Return of the King
.
Terry Brooks may have shamelessly ripped off Tolkien in the original Shannara trilogy, but I do have to give him props for having strong love stories in all three of those books:
The Sword of Shannara, The Elfstones of Shannara
, and
The Wishsong of Shannara
.
And in current-day releases, I'm totally shipping Harry Dresden and Murphy in Jim Butcher's
The Dresden Files
. Anton Strout has set up some fun romance in both of the series of his that I've read. And Chaz Brenchley has delivered me some truly lovely little romances in the fantasy novel
Bridge of Dreams
and his more recent horror release,
House of Doors.
These are all some pretty gigantic shoes for me to fill in my own book,
Valor of the Healer
, Book 1 of the Rebels of Adalonia trilogy. All of them, though, have taught me that the kind of book I want to write is one that combines the excellent worldbuilding of SF/F with a love story that will resonate with readers. If you'd like to let me know if I made it work, you can pick up Valor of the Healer from
Carina Press
, or from any of the other places I've called out on
Valor's official page
!
If any of you are also SF/F readers, tell me about your own favorite love stories in that genre, won't you? I'll be taking comments for a week after this post goes up, and I'll choose someone to win a free copy of
Valor of the Healer
in either EPUB or PDF form!
Thanks to Susanna for hosting me!
Susanna again: Thanks for being a guest on my blog, Angela! Your list has given me some great ideas for future reads. As for my own favorite love stories in the genre, I'm fond of many couples from Lois McMaster Bujold's Vorkosigan saga--Aral/Cordelia is probably my favorite pairing, but Miles/Ekaterin, Ivan/Tej, and Alys/Simon are right up there, too. I love Jacqueline Carey's D'Angeline series, with Joscelin/Phedre as my favorite couple, though I like Moirin/Bao too. Ilya and Tess in Kate Elliott's Jaran are also among my favorites. I really wish there was more chance she'd go back to that series someday...