I'm delighted to announce that the first manuscript I ever finished--and the second one Carina Press published--is on sale exclusively at iBooks for just $1.99 from now through the end of the month.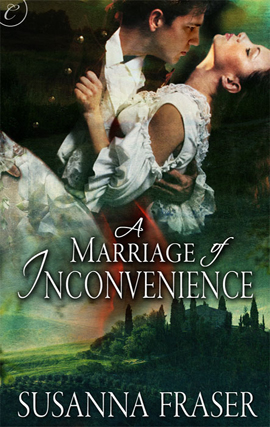 A Marriage of Inconvenience
Lucy Jones is a nobody. As an orphan she was reluctantly taken in by her wealthy relatives, the Arringtons, on the condition that she be silent and obedient, always. When her lifelong infatuation with her cousin Sebastian is rewarded by a proposal of marriage, she's happy and grateful, even though the family finds excuses to keep the engagement a secret.
James Wright-Gordon has always had the benefits of money and a high station in society, but he is no snob. He's very close to his sister, Anna, who quickly falls for the dashing Sebastian when the families are brought together at a wedding party. Meanwhile, James is struck by Lucy's quiet intelligence, and drawn to her despite their different circumstances in life.
Lucy suspects that Sebastian has fallen for Anna, but before she can set him free, a terrible secret is revealed that shakes both families. Will James come to her rescue--or abandon her to poverty?
95,500 words
Set mostly at a house party in Gloucestershire in the early summer of 1809, this is the most pastoral and traditional Regency story I've written to date, though because I'm me the Napoleonic Wars
will
make their presence felt--Sebastian is a cavalry officer about to join his regiment in Spain, and James is a politically active viscount who has outspoken opinions on everything, including the conduct of the war.
All About Romance gave the book a B+
and said, "
A Marriage of Inconvenience
is very charming. It reminded me of older, lighter Regencies, a la Georgette Heyer, where the focus is more on the characters getting to know each other intellectually rather than physically."
At
Heroes and Heartbreakers
, Jessica Tripler said, "
A Marriage of Inconvenience
is a more traditional historical. It has its share of sexy scenes, but is more of a character and family study. It emphasizes the fragility of Lucy's status and the dangerous complexity of human nature, giving it an almost gothic feel at times. And how can you go wrong with a hero of less than average height who seems ten feet tall at the end?"
So, if you have just about any iThing--iPhone, iPad, iPod Touch, or Mac--
take advantage of this sale while it lasts!